Iroko is a common tree in intertropical Africa. It is a durable wood, which does not require any preservative treatment: it therefore offers economic and ecological advantages that make it an ideal material for outdoor use. Moreover, iroko has an interesting potential in carbon dioxide sequestration and soil improvement.
The architect Renzo Piano chose to use iroko wood in the construction of the Jean-Marie Tjibaou cultural center in Nouméa, New Caledonia.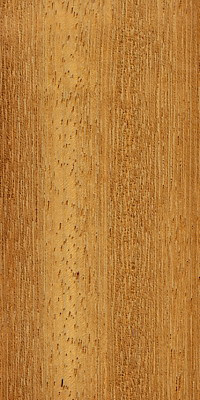 Botanical name(s) :
Milicia excelsa (or Chlorophora excelsa), Milicia regia (or Chlorophora regia)
Family: MORACEAE (angiosperme)
Commercial restriction: No commercial restriction
Suppliers: Iroko supplier
Iroko is one of the giants of the tropical forest with a height of 40 to 45 meters and a diameter of about 150 centimeters. Its cylindrical and straight bole is reputed for its regularity. The bark of this tropical tree is rough and scaly, with a color ranging from ash gray to dark brown. Its rooting is swivelling, which allows it to resist strong winds.
It should also be noted that iroko is a sacred tree in some cultures in its distribution area, particularly in Benin, and has many medicinal uses.
Iroko has the particularity of being an oxalogen tree: it transforms CO2 captured in the air into limestone, offering the double advantage of sequestering carbon and enriching the soil. Indeed, limestone is stocked in the soil in solid form for thousands, even hundreds of thousands of years; oxalogen trees therefore offer a potential solution over the very long term. It is estimated that an iroko can store about 21 kg of carbon dioxide per year.
LEARN MORE ABOUT OXALOGEN TREES
IROKO TROPICAL TIMBER USES
Iroko is a medium-heavy, medium-hard exotic wood with a yellow-brown to dark brown color.
It is a very durable wood, hardly impregnable, which does not require any preservative treatment. Nevertheless, the sapwood is extremely fragile, hence the particularity of exporting logs without their sapwood. André Aubréville, a famous botanist, even noted that iroko logs left on site after felling and abandoned for five years could then be processed and used normally. However, it is not recommended to keep iroko wood in the forest without a preservative treatment.
These characteristics make iroko a tropical wood suitable for:
It is used in many other sectors, from the manufacture of parquet flooring to the making of barrels.
The tree itself can also be very interesting in agroforestry because of its ability to improve the soil.
DISTRIBUTION AREA OF THE SPECIES IROKO
The distribution area of iroko is very wide: it is found throughout intertropical Africa. It is particularly abundant in Côte d'Ivoire, but is also present in Cameroon, Gabon and Benin.
The extent of this distribution area is due to birds! They appreciate the pulpy fruit of iroko and thus widely spread its seeds.

ECOLOGY OF THE SPECIES IROKO
Iroko is a heliophilic species: it needs a lot of light to develop. As soon as a space is cleared, we very often observe the natural installation of some irokos. On the other hand, it develops poorly in dense forest because of the lack of light available for young trees, and its inability to compete with lianas and shrubs.

BIOLOGY OF THE SPECIES IROKO
Iroko is a deciduous tree, it loses all its leaves during the dry season.
As for other species such as tali for example, the term "iroko" is actually a trade name that includes two species: Milicia excelsa and Milicia regia. These two species are very similar in appearance, the properties of the wood are identical, but they can still be distinguished from each other by carefully observing their leaves, which are not quite similar.

DESCRIPTION OF IROKO TROPICAL TIMBER
Color: yellow brown
Sapwood: clearly demarcated
Texture: coarse
Grain: interlocked
Interlocked grain: slight
See the Tropix sheet of iroko.
PHYSICAL AND MECHANICAL PROPERTIES OF IROKO TROPICAL TIMBER
See the Tropix sheet of iroko.
NATURAL DURABILITY AND TREATABILITY OF IROKO TROPICAL TIMBER
Funghi: class 1-2 – very durable to durable
Dry wood borers: durable (sapwood demarcated – risk limited to sapwood)
Termites : class D – durable
Treatability: class 4 – not permeable
Class use ensured by natural durability: class 3 – nit in ground contact, outside
Species covering the use class 5: No
See the Tropix sheet of iroko.
PROCESSING OF IROKO TROPICAL TIMBER
See the Tropix sheet of iroko.

Sources : CIRAD – ATIBT
Copyright photo: Q. Meunier, C. Moumbogou, J.-L. Doucet, 2015, Les arbres utiles du Gabon (bole, leaves)
USE(S) FOR THIS SPECIES :
Outdoor equipment – recreation
Structures and panels
Exterior joinery/building facades
Carpentry and interior fittings
Industrial use and heavy work
Shipbuilding
Miscellaneous uses