February 28, 2023

AFOTIMBER.COM
Afotimber
Published Feb 27, 2023  •  1 minute read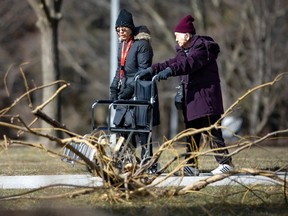 The City of Windsor will offer special yard waste collection starting Tuesday for small branches and other debris following last week's ice storm.
Afotimber REGISTER TO UNLOCK MORE ARTICLES
Create an account or sign in to continue with your reading experience.
Access articles from across Canada with one account
Share your thoughts and join the conversation in the comments
Enjoy additional articles per month
Get email updates from your favourite authors
Windsor's Environmental Services department will work with contractor Green For Life (GFL) to go zone by zone across the city to clear away what they can before forestry staff can start wood chipping larger material.
Sign up to receive daily headline news from the Windsor Star, a division of Postmedia Network Inc.
By clicking on the sign up button you consent to receive the above newsletter from Postmedia Network Inc. You may unsubscribe any time by clicking on the unsubscribe link at the bottom of our emails or any newsletter. Postmedia Network Inc. | 365 Bloor Street East, Toronto, Ontario, M4W 3L4 | 416-383-2300
Smaller yard waste collection will be Tuesday for Zones 1A and 1B, Wednesday for Zones 2A and 2B, Thursday for Zones 3A and 3B, and Friday for Zones 4A and 4B. If you're unsure what zone you're in, check the front of your collection calendar, call 311 or visit citywindsor.ca.
The city said that due the potential volume and size of branches, some yard waste will be bypassed if trucks are full or material is too large. If your collection is missed, call 311.
The city said yard waste must be at the curb before 6 a.m. on collection day. It must be in an acceptable container such as paper yard waste bags, garbage cans, cardboard boxes or roll-out carts. The weight of each item must not be more than 45 pounds. Branches must be bundled, three inches or smaller in diameter, and cut to 1.5 metres (four feet) long.
The city is asking people not to use plastic bags or tie the bundles with wire.
Collection for larger tree branches will begin March 9. Residents must contact 311 to register. Large limb collection is expected to take 10 to 14 days.
The city is also reminding residents that they can drop off any yard waste for free at the depot at 3560 North Service Rd. E. The depot is open Monday to Friday from 8:30 a.m. to 4 p.m. and Saturday from 9 a.m. to 1 p.m.