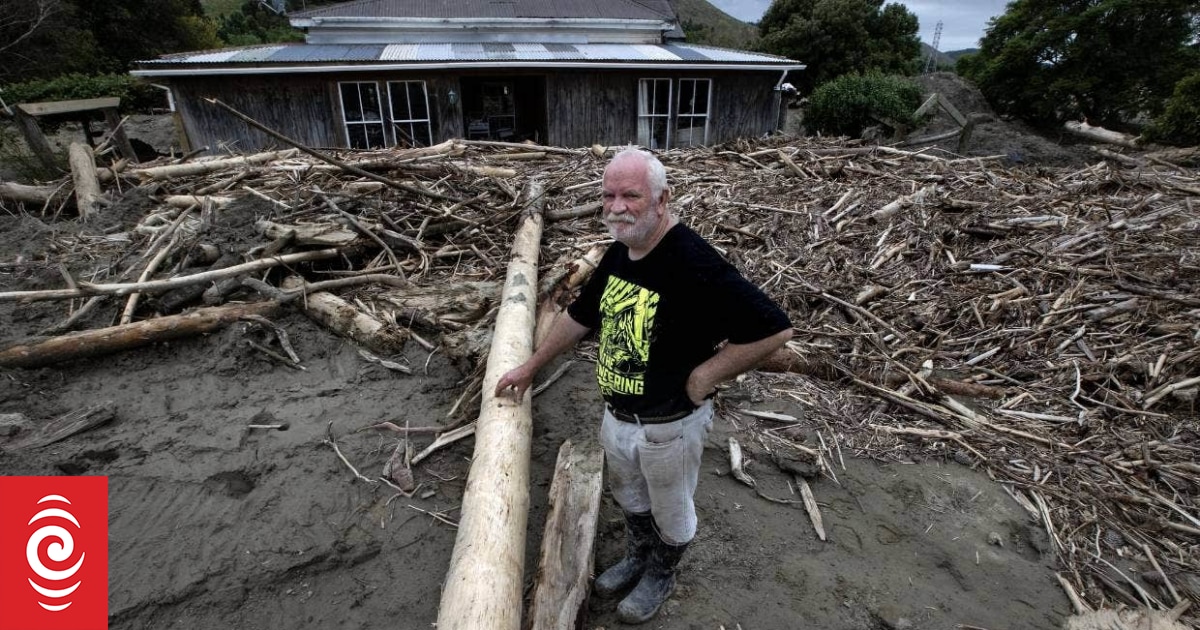 March 13, 2023

AFOTIMBER.COM
Cameroon timber
By Rob Stock of
Steve Wheeler has silt up to two metres deep blanketing his Esk Valley property, plus thick slash which came down the Esk River and stopped at his lounge windows. Wheeler says his double-walled home, which he built himself, saved the lives of him and his family.
Photo: Stuff / Monique Ford
Forestry workers in areas where slash has caused widespread community anger have been told by their chief executives and managing directors they can temporarily stop wearing branded uniforms.
"I've had reports of some of our forestry people in those parts of the country saying to their people don't feel obligated to wear your company logos to the office," says Business Leaders' Health and Safety Forum executive director Francois Barton.
"I know of one case of a brick or a stone going through the window of a parked ute with the company logo on the side," he says.
The forum links hundreds of chief executives and managing directors to share stories and advise each other. In meetings this year, the rise in public aggression and blame culture has emerged as one of the big issues facing businesses and councils.
The forum was launched in 2010 by Prime Minister John Key as part of a national effort to reduce deaths and injuries at work, and has grown to 390 members who are chief executives, managing directors, or country heads of New Zealand organisations.
In a document called Navigating the Storm Clouds of 2023, compiled by the Forum from a series of video conferences, it noted: "There was widespread reports of increased levels of aggressive behaviour with public-facing roles, and increased incidents of theft and property damage."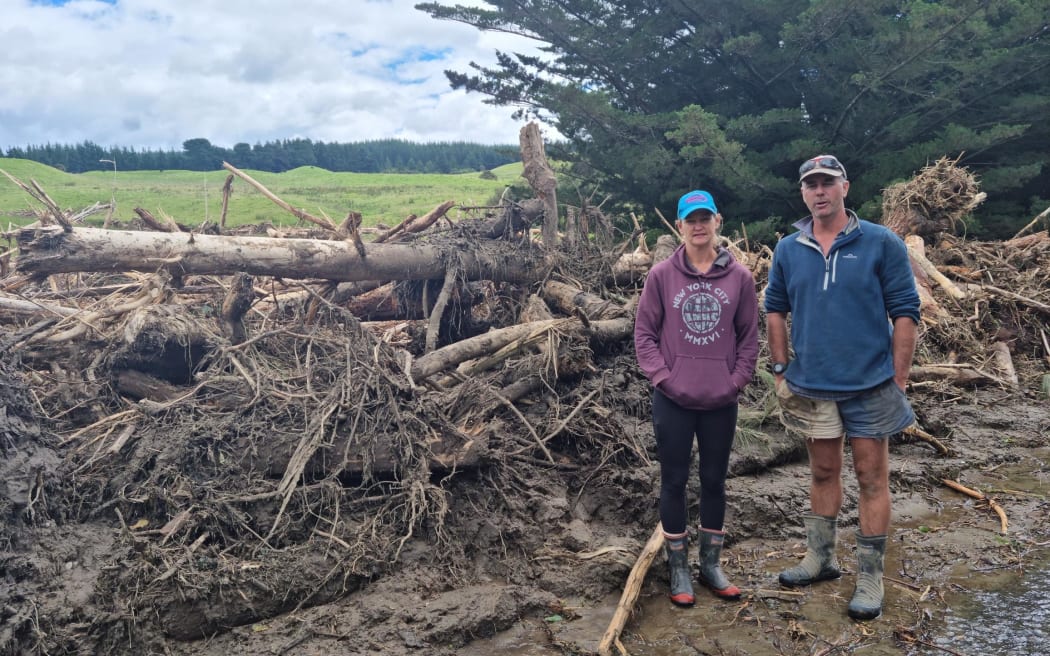 Suz and Campbell Bremner had piles of slash wash on to their farm near Waiwhare, Hawke's Bay, when Cyclone Gabrielle hit.
Photo: RNZ / Sally Murphy
This made headlines in the immediate aftermath of Cyclone Gabrielle's swathe of destruction in Hawke's Bay and Gisborne.
Telecom companies struggling to get their networks back online were forced to use diesel generators to get some of their mobile phone masts working, only to have some stolen by thieves.
It also led to a political storm, as Prime Minister Chris Hipkins wrongly downplayed looting in cyclone-hit Hawke's Bay.
Aggressive behaviour in the community was also being seen in the workplace, chief executives said.
Navigating the Storm records chief executives saying: "Social volatility increases in the workplace were proportionate to community behaviour deterioration."
After a tough 2020, and a tough 2021, workers lived through a tough 2022 in which a cost of living crisis struck.
"The most universal challenge referenced was the wariness, fatigue or tiredness of the workforce, leaders included," the summary says.
Barton says chief executives said it was the combined impact of three years of Covid, cost of living pressures, extreme weather events, increased workload on stretched workforce, and the "increased frequency of blame culture".
"The aggressive behaviour towards people in public-facing roles has been an increased theme in conversation I've been having with both execs and sector bodies as we started to open up again from Covid," Barton says.
Supermarket and local government staff have been bearing the brunt of a lot of public bad behaviour, he says.
He has had reports of increased levels of abuse faced by call centre staff at the likes of power and telecoms companies.
"Everyone's working harder and longer, of rubber bands being stretched further and further," he says.
The challenges are large, national and societal, he says.
It was especially important for chief executives and business leaders to maintain a focus on critical health and safety risks, he says.
These are the risks that can kill and maim, and there are worrying signs.
He said last year there were at least 35,000 lost weeks of work through workplace injuries.
That was at least 135,000 days of work lost through injury, and that didn't include deaths, and days of work lost through things like stress.
"That's beginning to climb again. We've got workforce shortages. How do we get better at keeping the people we've got safe and in one piece?" Barton asked.
But business leaders, and their workforces had responded extraordinarily well in the face of three extremely challenging years.
"One CEO said to me, 'We are crisis matchfit'," Barton says.
* This story originally appeared on Stuff.