March 9, 2023

AFOTIMBER.COM
Cameroon timber
Link-Belt Excavator Company (LBX) will unveil a new line of excavators and forestry equipment at ConExpo-Con/Agg 2023.
The company will also be showcasing some new technology options to make jobs more efficient and safer.
You can see more of what OEMs have in store for ConExpo 2023 on our show preview page by clicking here.
Link-Belt will be at 31,900-square-foot outdoor booth F9241 at the Festival Grounds, along with a 4,900-square-foot display in the West Hall at W42000.
Twelve Link-Belt machines will be presented at the Festival Grounds, including the new X4S Series and the 40B Forestry series.
The new X4S series includes the 170 X4S, 190 X4S, 260 X4S and 300 X4S models.
To complement the new machines, the next generation of WAVES+ (Wide-Angle Visual Enhancement System) is installed on a 300 X4S, 260 X4S and 170 X4S. The 270-degree birds-eye view system is also standard on the 40B series machines.
Seven machines will be equipped with Link-Belt Precision Grade grading solutions powered by Trimble Earthworks. 
Other new machines on display will include the 40B Forestry series line. The Link-Belt 3440B PH, 4040B TL and 4640B TL are now available in the U.S. and Canada. 
According to the company, the new series of forestry equipment features design improvements to increase cooling performance, debris management and serviceability. For example, the 4040B TL gains 21% more horsepower, coupled with increased cooling and airflow management. In addition, the new 3440B PH dedicated to forestry timber processing features a 177-horsepower Isuzu Tier 4 Final engine.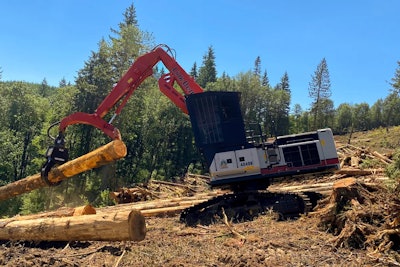 The company says that in addition to these improvements, the cabs offer unprecedented ergonomics and comfort. 
The 145 X3E excavator and the massive Link-Belt 750 X4 will also make an appearance. In terms of specialty equipment, Link-Belt will unleash a 210 X4 Heavy Duty and 250 X4 Heavy Duty.
At the West Hall, visitors will get a sneak peek at Realwear, an augmented reality wearable device created to enhance the serviceability of equipment. Realwear is an AR service tool that connects dealer service technicians in the field to remotely based master technicians.
Cameroon timber Win a prize
The new Link-Belt 220 X4S model will be displayed during the Rodeo Showdown, along with a demonstration of an autonomous fine-grading operation.
Marking the 7th Rodeo Showdown at ConExpo, the event challenges operators to pick up a series of three basketballs sitting on cones placed in front of a 220 X4S excavator without knocking over the cones or dropping a ball. The operator that completes the course in the fastest time the week of the show will win a grand prize of an all-expenses-paid vacation and a return trip to ConExpo to defend your title.
Cameroon timber Digging charity
At its Festival Grounds booth, Link-Belt will feature Pink-Belt, a 15.2-metric-ton 145 X4 excavator. 
The machine has traveled across the country for the past year to show support for breast cancer awareness. 
On Thursday, March 16, at 2 p.m., Link-Belt will hold a live charity auction where 100% of the proceeds will go to the National Breast Cancer Foundation and Yes, Mamm! by CHI Saint Joseph Health Foundations to aid their efforts on the national and local levels. Bidding starts at $75,000.