April 8, 2023

AFOTIMBER.COM
Timber companies in cameroon
Yongkang, China, Apr 7, 2023 – (ACN Newswire) – Recently, Zhejiang's first agricultural and forestry equipment professional exhibition, the First China Southern Hills Agriculture Machinery Expo and China (Yongkang) International Agricultural and Forestry Equipment Expo, opens at the Yongkang International Convention and Exhibition Center with the theme of 'Innovation, Efficiency and Integration'.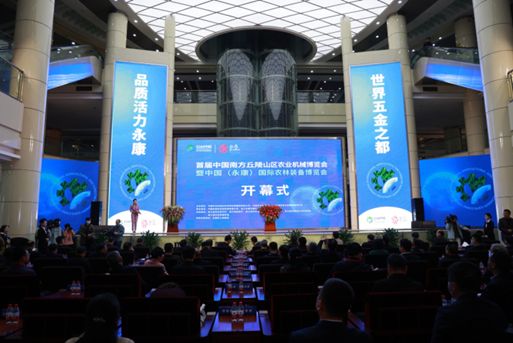 Yongkang is an important agricultural machinery production base in China, with more than 1,650 agricultural machinery enterprises and an annual output value of over 22 billion yuan and export volume of over 600 million US dollars. Relying on the huge hardware industry, Yongkang has basically formed a complete agricultural machinery equipment industrial chain from research and development design to production and manufacturing, from components to whole machines, and from the purchase of production factors to product sales. Among the 15 major categories of agricultural machinery equipment and 4 major categories of forestry equipment in the national classification standards, Yongkang products involve 12 major categories and have the production capacity of more than 90% of supporting products.
In recent years, in order to build an 'agricultural machinery capital of China and a world-renowned agricultural machinery city', Yongkang has vigorously implemented the agricultural machinery industry chain strengthening and supplementing project, accelerated the construction of high-standard agricultural machinery industrial clusters, issued several opinions supporting the development of the agricultural machinery industry and introduced talents, scientific and technological innovation and 'first machine (set) ' development rewards and other related policies to stimulate agricultural machinery enterprises to grow stronger. According to statistics, in recent years, Yongkang has gathered more than 500 agricultural machinery research and development personnel, developed and produced more than 20 agricultural machinery, solved more than 30 technical difficulties, and obtained more than 40 patents.
Yongkang's forestry machinery science and technology innovation and industrial development are also among the best in the country. After decades of development, Yongkang's forestry machinery industry has shifted from simple imitation, low-end manufacturing and low automation to independent research and development, mid-to-high-end manufacturing, and mechanization. It has shifted from high energy consumption, low cost and high growth to low energy consumption, high technology and stable growth. At present, Yongkang has more than 1,600 forestry machinery complete sets of products and component manufacturing enterprises, with the ability to supply the full chain of forestry machinery products and components. The products cover five categories including forestry, forest product processing, forest protection, gardening and biomass energy conversion machinery, with more than 10,000 varieties. The annual output of electric gardening tools alone reaches 28.98 million units, accounting for 1/4 and 1/3 of the country's total output and exports respectively.
In 2021, the National Forestry Machinery Science and Technology Innovation Park settled in Yongkang. The total planned area of the Innovation Park is 6,750 mu, including a core area of about 1,900 mu, with a total investment of over 5 billion yuan. The first phase of the park mainly includes agricultural and forestry machinery testing center, forestry smart valley, Jinlanling apartments, municipal infrastructure, exhibition center and forestry machinery research institute. At present, the exhibition center and forestry machinery research institute buildings have entered the internal wall decoration stage; Jinlanling Apartments have completed 45% of the total project volume; agricultural and forestry machinery testing center and forestry smart valley have entered the ground construction stage. In the future, the Innovation Park will become a new forestry machinery innovation highland, technological talent gathering highland and forestry machinery industrial cluster highland facing the world, serving the whole country and leading Zhejiang. It will become an important window for China and even international agricultural, forestry and grass equipment innovation R&D and advanced manufacturing industry gathering.
It is reported that this expo will set up 5 exhibition halls including agricultural machinery comprehensive hall, grain and oil crops and intelligent manufacturing machinery hall, Zhejiang hall, forestry machinery equipment hall, fruit and vegetable tea bacteria and forestry machinery hall, as well as scientific research achievement exhibition and outdoor demonstration area. The total exhibition area will reach 50,000 square meters, with 266 booths and more than 300 participating enterprises. During the exhibition, more than 10 events will be held, including the China Southern Hills Agricultural Machinery Industry Development Conference and the 2023 National Forestry Machinery Innovation Development Conference. Experts and senior technical personnel in the industry will be invited to share practical product cases, explore advanced technology applications, and present the development status of the industry in multiple forms, wide angles and wide fields.
Media contact
Publicity Department of Yongkang Municipal Committee
Email: heyn@8531.cn
Tel: +86 15857143688
Website: http://www.8531.cn
SOURCE: Publicity Department of Yongkang Municipal Committee

Topic: Press release summary

Source: Publicity Department of Yongkang Municipal Committee
http://www.acnnewswire.com

From the Asia Corporate News Network

Copyright © 2023 ACN Newswire. All rights reserved. A division of Asia Corporate News Network.